Though I have never met everyone on this email distribution list, I do know that we are grouped together through a mutual bond of conserving and protecting our natural environment by ensuring clean air and clean water and by recognizing climate change and the potential for human health risks associated with pollution. My technical background with the Texas Commission on Environmental Quality (TCEQ) from 1990 – 2018 and my work since make me uniquely qualified to analyze this proposed piece of legislation and its impact on the Agency and on the public.
As you may or may not be aware, Texas Senate Bill 471, that is authored by District 30 Senator Drew Springer, was considered in a public hearing on March 13, 2023. It was left pending in committee until substitute bill language resulted in its passage out of the Senate's Water, Agriculture, and Rural Affairs Committee on April 19. At the author's request, it was fast-tracked to the Senate by suspending rules on the Intent Calendar, Regular Order of Business, and the Three Day Rule and was passed on April 27. It was then forwarded to the Texas House of Representatives on that same day and was later referred to its Environmental Regulation Committee on May 4. The bill's history can be accessed at the link below.
https://capitol.texas.gov/BillLookup/History.aspx?LegSess=88R&Bill=SB471
I hope that each of you takes the time to read the enclosed bill language carefully because it is terrible for your non-governmental environmental organizations including members and affiliates, local communities, family, friends, and of course your constituents, supporters, and funders. In essence, the TCEQ no longer appears willing to fulfill one of its core functions that has been around for decades – conducting environmental investigations.
Per the current bill language that will be added to Section 1, Section 5.176 of the Texas Water Code, "(c) the commission is not required to investigate a complaint; (1) that may be addressed during other commission activities; or (2) that was filed by an individual when there is not a reasonable probability that the commissions can substantiate the complaint and; (A) the complaint is repetitious or redundant of other complaints concerning the same site investigated in the preceding 12 months that were not substantiated by the commission; or (B) the complainant has filed in the preceding seven years at least five complaints that were not substantiated by the commission."
Whether you realize it or not, the submission of environmental complaints to the TCEQ is one of the most powerful tools in your toolbox. This proposed bill as written will negatively impact your ability to get the TCEQ to address your environmental concerns at industrial sites and properties around Texas. After all, will the TCEQ determine that it will conduct an inspection at a plant in the next six months that may or may not include the emission source(s) that you are concerned about or has the TCEQ even addressed the complaint that you previously submitted more than 30 days ago or has the TCEQ stopped downwind pollution that has contributed to your children's asthma? Should you and your daycare or house of worship be penalized because the TCEQ has not substantiated previous odor complaints or deemed them enforceable for the affected parties? Regardless of your specific answers, this piece of proposed legislation is absolutely unacceptable. It will affect the ability to submit odor complaints downwind of oil and natural gas sites, refineries, chemical plants, processing facilities, power plants, et cetera. Remember the strong smell of sour crude the last time you drove through Luling, Texas – making environmental complaints will now be a thing of the past. What about dust and particulate matter emissions that can easily be documented downwind of concrete batch plants in Central Texas? What about off-property optical gas imaging assessments that the TCEQ itself conducts? How about blown black soot from smoking flares or huge flames on lit flares? What about a facility that cannot seem to control water and/or waste runoff from its property? How about your ability to conduct fenceline monitoring for your NGOs and affected parties because that will certainly be limited. What about the ability to use U.S. Environmental Protection Agency Alternative Method 82 and method ASTM D7520-16 with your digital camera, as that will certainly be negatively affected. Your environmental complaints to the TCEQ will now be limited. Do your constituents live or work near poultry, rendering, or animal processing facilities in Texas because their complaints will no longer matter. Does anyone on this email chain live near odorous landfills or stinky wastewater treatment plants because if you do, you will now have limited power to address them. This negative impact list could be limitless as these are just a few practical examples of possible legitimate complaints that can be submitted, thus each of you get the idea of why this bill is so awful.
At this point, proposed Senate Bill 471 has now been scheduled for another public hearing on Wednesday, May 10 at 09:00 during the next House Committee on Environmental Regulation meeting. I would like to encourage each one of you to testify against this bill in person, especially considering there was such a poor turnout during the Senate Committee hearing. If you are unable to be there in person to voice your displeasure, my next recommendation is for each of you (and every one of your organization's constituents and affiliates plus friends and family) to contact the office of all nine members of the Environmental Regulation Committee (the contact information is listed below) via phone calls from Monday through Thursday of this week and repeatedly explain why you cannot support this bill.
I know this can be a bit time consuming, but the first person picking up the phone will make a notation that you are against the bill, as will the second staffer that you will be handed off too. If you have additional time to talk to a third contact, this will likely be a policy person. Regardless, the time to act is now to protect yourselves, your organizations, your constituents, your family and friends, and of course the environment and our planet. If this bill is not stopped and delayed at this House Committee level, it will pass and will be the law of the land in Texas. I will guarantee you that no one will be happier than the TCEQ – less work and less responsibility. If we do not band together to stop this bill, each of you will eventually regret the inaction because you will lose power and leverage to minimize environmental impacts around the state, as the first thing the Agency does internally is to evaluate industry performance by using its enforcement and complaint histories for judgment. By in large, these two considerations will now be rendered mute if this bill passes.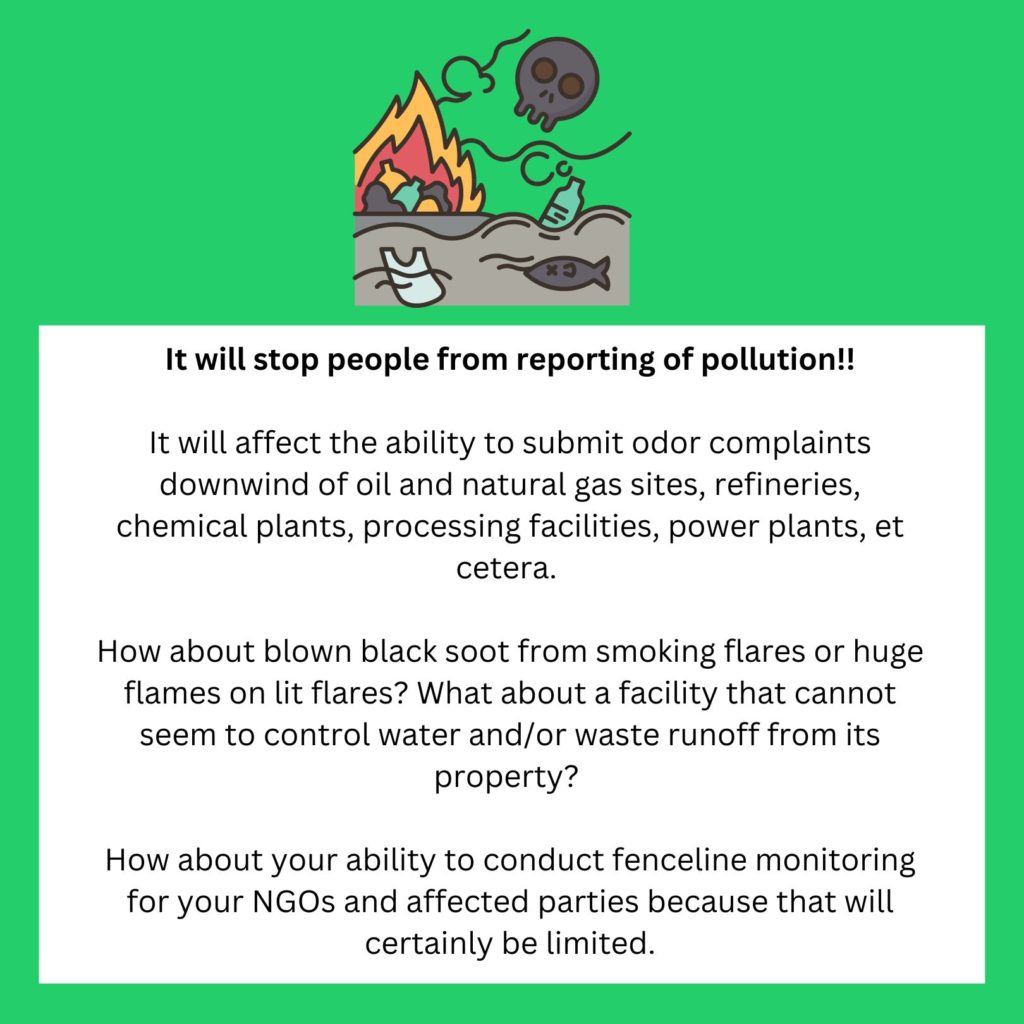 For those of you that have even more time and dedication this week, perhaps a protest at the Capital is in order, as you cannot underestimate the damage this proposed bill will do for your future leverage on environmental protection and climate change in Texas.
In the meantime, the House Committee on Environmental Regulation contact information link, along with individual Committee membership contact information is listed below. It is critical to contact these individuals by phone repeatedly between now and a possible vote on May 10. It can really make a difference so please flood their offices with phone calls opposing this bill so it will not be considered an uncontested, as it was in the Senate.
https://capitol.texas.gov/Committees/MembershipCmte.aspx?LegSess=88R&CmteCode=C260
Representative Brooks Landgraf (Chair): 512-463-0546 (Republican)
Representative R. D. "Bobby" Guerra (Vice Chair): 512-463-0578 (Democrat)
Representative Keith Bell: 512-463-0458 (Republican)
Representative Jay Keith: 512-463-0750 (Republican)
Representative John Kuempel: 512-463-0602 (Republican)
Representative Janie Lopez: 512-463-0640 (Republican)
Representative Thresa "Terry" Meza: 512-463-0641 (Democrat)
Representative Penny Morales Shaw: 512-463-0620 (Democrat)
Representative Ron Reynolds: 512-463-0494 (Democrat)
Please try to stop this terrible piece of legislation before it gets passed.
Taken from and email from Tim Doty